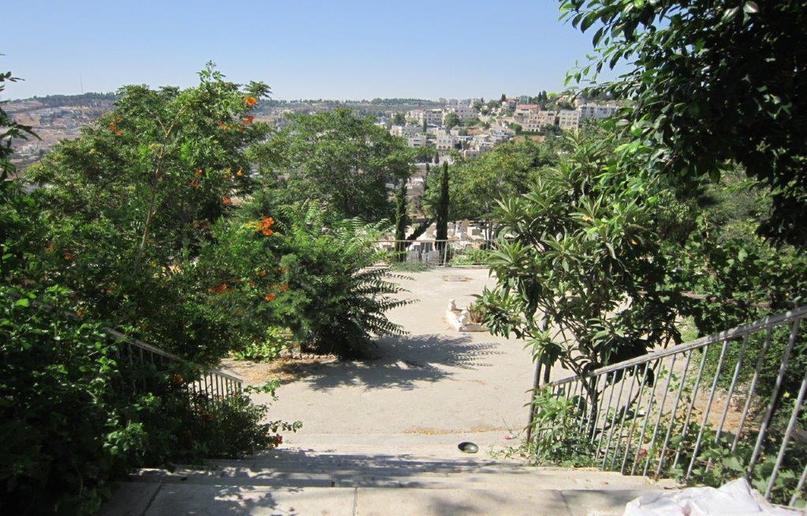 The Catholic parish cemetery is located on the street above the church of St. Peter in Gallicantu on the southern hillside of Mt. Zion. In accordance with the hillside it is designed in three floors, which are connected to each other by a staircase.
The north-eastern part of the cemetery is old and destroyed since the bombing by the Jordanian military in 1948. Between 1948 and 1967 it served as a observation post of the army. In 1967 the cemetery was once more used for funerals.
There are mainly Catholics buried at the parish cemetery. In cases of interreligious or interdenominational marriages spouses of different faiths were also interred. The predominant part of the graves though are those of local catholic Christians – mainly arabic speaking.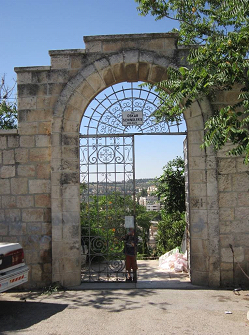 Entrance to the Catholic Parish Cemetery
Memorial for Polish Soldiers and Civilians
Striking is a large burial ground, where the gravestones are bright stone crosses. A memorial stone is reminiscent of Polish soldiers and civilians. On the way back home with their families during and after the second world war, they stayed in Jerusalem and died there.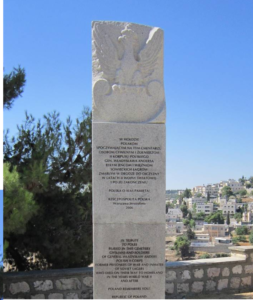 A famous grave is the tomb of Oskar Schindler (1908-1974). The industrialist, who was born and raised in Zwickau, saved the lives of over 1000 Jews during World War II by dint of his warlike production facility in today´s Poland. Even after the war, Oskar Schindler was in close contact to his former Jewish employees in Jerusalem. His last wish was to be buried at the Catholic parish cemetery on Mt. Zion. Oskar Schindler became famous through Steven Spielberg´s movie "Schindlers List" from 1993. In his final scene the real Jews, who were rescued by Schindler, are shown with their actors putting stones in memorial on the grave of Oskar Schindler . Until now the grave is visited by many Jews and almost completely covered by stones.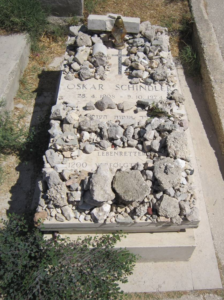 In 2013 the christian Cemetery was the target of extremist Jewish vandalism, which was limited though to graffiti on the graveyard´s wall.
The Cemetery is under the care of the Franciscan Order. In average 15-20 burials take place each year.