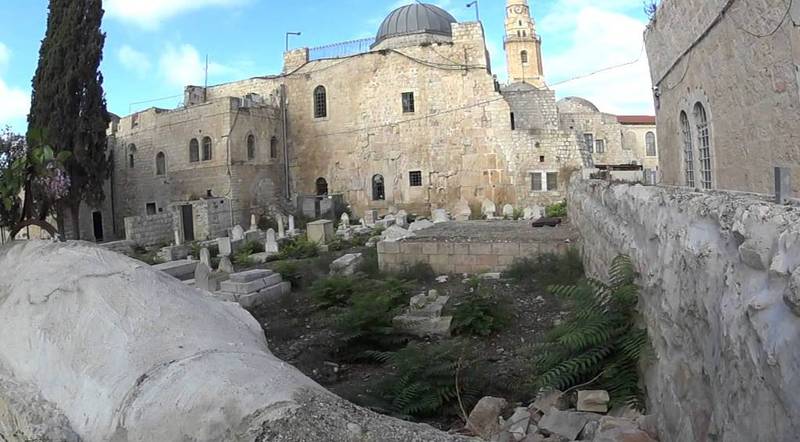 The Dajani family owns three cemeteries on Mount Zion: a 576 sqm plot, intended for the descendants of Sheikh Suleiman al-Dejani,  a 87 sqm plot for the descendants of Anes al-Dejani, and a 15X15 meter plot intended for the burial of children, called Tarbat al-Mansi, presumed to belong to Mohammed Al-Mansi.
The Dejanis were one of Jerusalem's most distinguished families, as well as the proprietors of the David's Tomb compound and most of the Mount Zion lands. Their genealogy goes back to the Prophet's own house on the family's Hashemite side. Many members of the family were religious scholars, academics and political leaders.  The first mayor of Jerusalem, who came into office in 1863, was Abd al-Raouf al-Dajani. The mayor during and following the First World War was Aref Pasha al-Dajani, who was also president of the Muslim-Christian Association, a political body who opposed Zionism. He supported the Nashashibi opposition to the Husseini leadership.
The family's ties to Mount Zion can be traced back to 1549, when the Ottoman Sultan Suleiman the Magnificent established a Waqf – a religious endowment – on the Nabi Daoud compound and its surroundings, and named Sufi Sheik Ahmed al-Dajani as its beneficiary. The entire compound referred to as Deir Zahyoun, near the Nabi Daoud Tomb and near the oven and gardens that belonged to the monastery, as well as Brij Ghaza, were given to Sheikh Ahmed al-Dajani, his descendants, and his students of Sufi mysticism.
The Dajanis have tied themselves to one of the Beit al-Maqdis conquerors buried on Mount Zion –Sheikh Mohammed al-Mansi, whom historian and Jerusalem administrator Aref al-Aref named progenitor of the Dajani family, perhaps because his burial place is located near David's Tomb. As the years passed, the Mount Zion area became known as the Dejani Neighborhood (Harat al-Dajaniya or Harat al-Daoudiya). They claim to have had fifty houses in the area. The waqf included agricultural lands in villages outside Jerusalem. The Dajanis also purchased lands around the area and endowed to both public and private beneficiaries. In 1880 the waqf had 16 administrators from the family.
for more information on the Dajani Family, visit: https://sites.google.com/site/dajaniforum/home